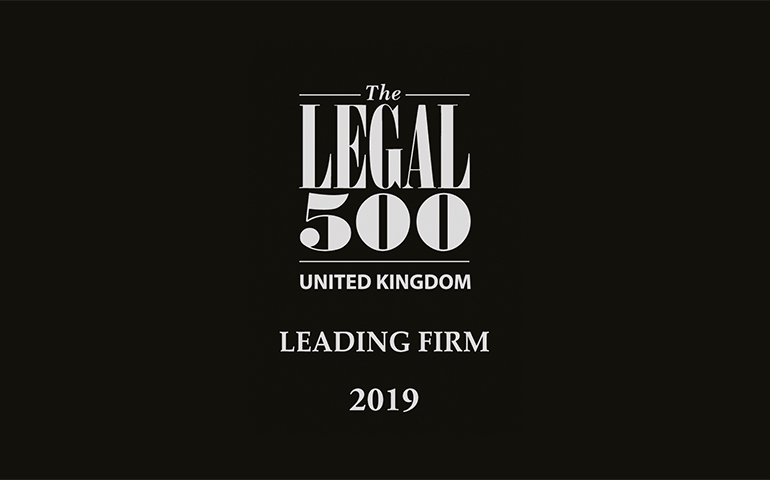 2019 Legal 500 Rankings Reflect Growth in Dispute Resolution Capabilities at CYK
Firm described as "A well-established powerhouse boutique" and "Innovative, super-efficient, devastatingly effective and technically excellent"
1 November 2018
The leading legal directory the Legal 500 today published its guide to the UK legal profession for 2019. Cooke, Young & Keidan was promoted in the rankings in a number of areas and featured in a broader range of practice areas than ever before, reflecting the growth in the firm's dispute resolution capabilities.
The firm received recognition for the first time for international arbitration and partnership law, while its growing expertise in civil fraud was recognised. Meanwhile its long-standing expertise in financial services and banking litigation continued to achieve high praise, with the guide saying the firm is 'delivering service, knowledge and skills that are impeccable and of the highest quality'.
Similarly, more of the firm's partners were listed as recommended individuals than in previous years, in recognition of the increased strength and depth of its legal expertise.
Managing partner Robert Coffey commented: "Over the last few years clients have been instructing us on an increasingly wide range of commercial disputes matters and it's very good to see that reflected in the breadth of our rankings in the Legal 500. In addition to our historic strengths in financial services and banking, we are now becoming equally well-known for our work in areas such as civil fraud, arbitration and partnership disputes and this trend will continue."
The firm was listed as a 'leading firm' in six areas as listed below, and the listings on the Legal 500 website can be seen here.
LONDON: CORPORATE AND COMMERCIAL
FINANCIAL SERVICES
'A well-established powerhouse boutique in banking and financial services litigation', Cooke, Young & Keidan LLP has also 'developed an excellent regulatory practice which compliments the fine work they have been doing in the banking litigation sphere since the firm's inception'. Himself formerly in-house at MF Global, the 'very bright and utterly charming' Stephen Elam is a 'very safe pair of hands' in relation to regulatory enforcement work on behalf of a range of financial institutions including a growing number of brokers. The 'hugely energetic and indefatigable' Marc Keidan is 'particularly well-known in the field of banking and financial services disputes' and regularly acts in financial disputes adverse to the banks and in hedge fund related work. Other recommended practitioners include 'skilled litigator' Sinead O'Callaghan, 'rising star' Daniel Burbeary and the 'very bright and client-focused' Lydia Danon.
PARTNERSHIP
Partnership – ranked: tier 5
Cooke, Young & Keidan LLP is a boutique litigation firm, which handles partnership disputes across industries with 'an excellent level of service', although it has particular expertise in the financial services sector. The group acts for and against LPs, LLPs and traditional partnerships in the spectrum of partnership disputes, including allegations of bad faith, misappropriation of assets, breaches and enforcement of restrictive covenants and minority shareholder oppression. Promoted to partner in October 2017, 'especially capable' Lydia Danon is the primary contact and noted for her 'forensic discipline', which she has recently employed in a high-value, multi-jurisdictional partnership dispute in the High Court. Name partner Marc Keidan is 'ideally suited to partnership litigation' and stands out for his 'willingness to get stuck into difficult fights'. Sinead O'Callaghan and 'brilliant strategist' Philip Young are also key contacts.
LONDON: CRIME, FRAUD AND LICENSING
FRAUD: CIVIL
Fraud: civil – ranked: tier 4
Cooke, Young & Keidan LLP
'Innovative, super-efficient, devastatingly effective and technically excellent' Cooke, Young & Keidan LLP is a boutique firm of 'well-lead, intelligently strategized, highly motivated and very successful fraud litigators'. The firm acts for CMOC Sales & Marketing after it was defrauded by unknown conspirators. This matter has involved asset tracing and obtaining a worldwide freezing order against 'persons unknown'. This is believed to be the first such freezing order of its kind and the case is valued at over £8m. Key practitioner Marc Keidan is 'a no-nonsense lawyer who gets results for his clients'. Philip Young is 'super-bright, technically spot-on and a thoughtful strategist'. Lydia Danon, who is 'very plugged into the market' and Daniel Burbeary, who is 'excellent and is genuinely starting to make a mark in the civil fraud arena' were both promoted to partner. Robert Coffey was appointed as managing partner and Gerald Cooke retired as senior partner but remains a consultant within the firm.
LONDON: DISPUTE RESOLUTION
BANKING LITIGATION: INVESTMENT AND RETAIL
Banking litigation: investment and retail – ranked: tier 3
Cooke, Young & Keidan LLP
Free of conflicts of interest and 'delivering service, knowledge and skills that are impeccable and of the highest quality', Cooke, Young & Keidan LLP 'has carved a solid reputation on the claimant side'. The practice regularly acts against financial institutions, and the practice is well known for acting in major claims in the financial sector. Recent work includes obtaining a suite of orders to assist tracing stolen sums for CMOC Sales & Marketing, part of the China Molybdenum mining conglomerate and the victim of a fraud whereby monies were stolen from its bank accounts following a sophisticated payments fraud; it also assisted the third defendant in Commercial Court litigation proceedings issued by a UK fund manager for a Libyan capital investment fund, FM Capital Partners, which alleged breach of fiduciary duties, related proprietary claims and unlawful means conspiracy in the structuring of complex structured products and investments. The 'diligent and knowledgeable' Philip Young focuses on substantial fraud-related cases, including those requiring urgent injunctive steps, and Marc Keidan, who is 'tenacious and aggressive', is best known for his claimant-side work. Other key names are the 'calm and knowledgeable' Sinead O'Callaghan and Stephen Elam; Lydia Danon and Daniel Burbeary were made partners.
COMMERCIAL LITIGATION
Commercial litigation – ranked: tier 4
Cooke, Young & Keidan LLP
The 'amazingly good' specialist disputes practice Cooke, Young & Keidan LLP was recently active in substantial commercial litigation, involving commercial contracts, shareholder conflicts, disputes over arbitration awards, civil fraud cases, and matters involving banks. The team acted for OFSB in High Court Chancery Division proceedings regarding its shareholding in Zavarco. Philip Young is 'always thinking of new angles'; and Sinead O'Callaghan 'motivates the troops with a combination of hard work and good humour'. Other recommended advisers are Marc Keidan and Stephen Elam, while Daniel Burbeary and Lydia Danon were made partners. Gerald Cooke retired as senior partner but remains a consultant with the firm.
INTERNATIONAL ARBITRATION
International arbitration – ranked: tier 7
Cooke, Young & Keidan LLP
Cooke, Young & Keidan LLP is 'now well-established in this field and has a reputation for innovative and cost-effective ways'. The practice has substantial experience of conducting arbitrations under all the major institutional rules. The recently promoted Daniel Burbeary 'has a wealth of experience'; Marc Keidan and Sinead O'Callaghan are also key contacts.