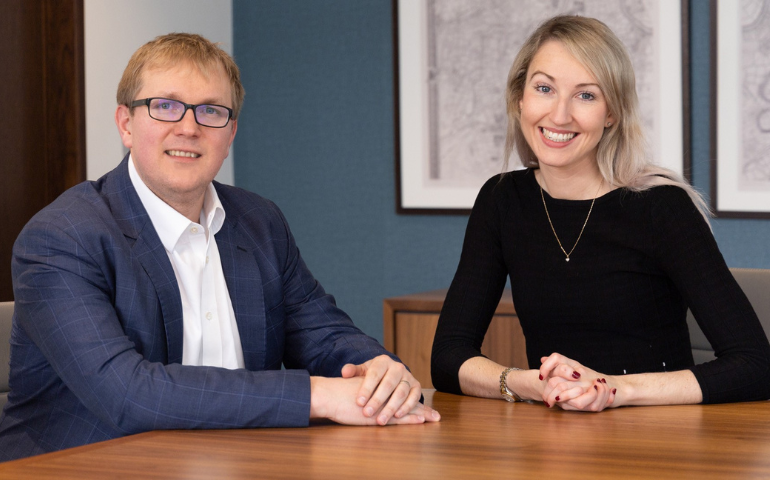 CYK celebrates promotions of Rosie Wild and Mikhail Vishnyakov to Partner
3 April 2023:  Leading disputes resolution boutique Cooke, Young & Keidan LLP has announced that Rosie Wild and Mikhail Vishnyakov are being promoted to the partnership, with effect from 1 April 2023.
This announcement supports CYK's continuing growth and reflects both Rosie and Mikhail's contributions to the success of the firm.
Rosie joined the firm in 2013 as an Associate and, as Partner, will continue to focus on building the firm's renowned civil fraud and financial services practices, where she has already played a key role in their development and growth.  This includes involvement in significant legal developments such as obtaining England's first worldwide freezing injunction of assets of 'persons unknown'. Rosie is an active member of the International Association for Young Lawyers (AIJA) and is currently President of the Litigation Commission.
An experienced dispute resolution lawyer and a Fellow of the Chartered Institute of Arbitrators, Mikhail joined the firm in 2021 as Counsel, and will continue to lead the firm's international arbitration practice as Partner. He will also provide valuable experience to clients facing disputes arising out of the unceasing imposition of complex financial sanctions.
Rosie Wild, Partner at Cooke, Young & Keidan, says: "I'm really excited to be joining CYK's partnership alongside my friend and colleague, Mikhail.  CYK has such a great collegiate culture and has given me so many opportunities as a young lawyer, so I'm very much looking forward to joining the leadership team, helping to provide similar career paths for the next cohorts of associates, as well as continuing to work with our valued clients and colleagues across the legal sector."
Mikhail Vishnyakov, Partner at Cooke, Young & Keidan, says: "My new role as partner will entail more responsibilities and will bring exciting opportunities. I am fortunate to be moving forward in my career in the company of terrific colleagues at CYK. I am glad to be joining the partnership alongside Rosie. Leading the firm's international arbitration practice has been a privilege, and I relish the prospect of spearheading this further with the rest of our team."
Sinead O'Callaghan, Managing Partner at Cooke, Young & Keidan, says: "I am thrilled to be making such strong internal promotions which recognise both Rosie and Mikhail's impressive contributions to the firm's development and growth. With nearly a decade at CYK, Rosie has been an instrumental figure in our civil fraud practice, while Mikhail has brought his wealth of experience to lead our arbitration and sanctions offerings with great success. Welcoming them both to the partnership is a moment of celebration for the firm, and we look forward to seeing their further achievements."
 Cooke, Young & Keidan is a leading boutique firm of commercial disputes lawyers. It specialises in undertaking substantial English Court litigation, international arbitration and alternative dispute resolution, working for businesses in the UK and abroad as well as for high-net-worth individuals.