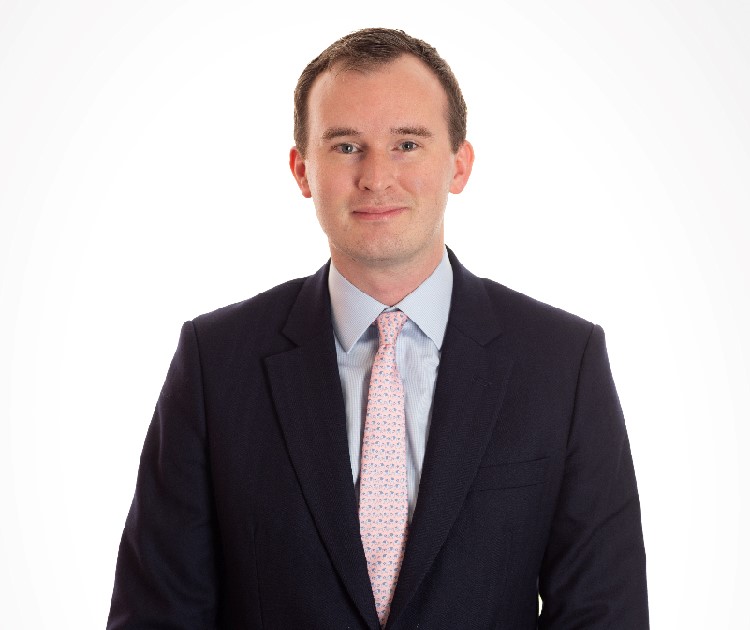 "Sam is a Partner and Solicitor Advocate with broad expertise in high value commercial dispute resolution, technology and finance litigation."
Sam specialises in technology and finance disputes. He is frequently instructed on claims involving cryptocurrency and digital assets, software licensing and development, and all manner of financial services disputes, including payment frauds, trading and brokerage claims, loans and guarantees.
Sam also has a strong track record representing claimants in applications for injunctive relief.
His particular focus is currently on Fintech disputes and on the application of psychology to dispute resolution.
Background
Sam joined Cooke, Young & Keidan in 2012, and qualified as a Solicitor Advocate in 2014.
He trained at Herbert Smith LLP, qualifying into its International Arbitration practice in September 2011.
Sam read International Relations at the London School of Economics before obtaining a First Class Degree in Law at the College of Law.
Professional groups
Sam is a co-founder of the Tech Disputes Network
Sam is a member of the Law Society of England and Wales. He is a member of the Society of Computers and Law, and the London Solicitors Litigation Association.
What the legal directories say
The 2021 edition of Legal 500 says that Sam:
"… has that sought after (and very hard to find) combination of technical skill, client care, and case management. He is an exceptional commercial disputes lawyer"
"… is very bright and finds angles others don't."
"… is very bright and creative and works hard to extract the best points for his clients"
Sam is a "key lawyer" for Banking Litigation (highlighted for fintech disputes), Commercial Litigation: Premium, and Financial Services: Contentious.
The 2020 edition said that he is "a brilliant and highly competent senior associate" who "handles extremely complex work with ease".
Publications, articles and seminars
'Who owns crypto-assets, and why it matters', author, Thomson Reuters Regulatory Intelligence, January 2023
'Cryptos and where to find them', author, Fintech Magazine, September 2019
'Going Nuclear: Freezing Orders in Practice', co-author, Thomson Reuters PLC Magazine, June 2019
'Psychology and Game Theory in Trust Litigation', speaker, Trusts and Estates Litigation Forum, Girona, March 2019
'Predictions and Uncertainty: Psychology in Litigation' – speaker at Transcontinental Trusts Conference, Geneva, June 2017
---
Cases of Note
Tulip Trading Ltd v Bitcoin Association for BSV & Others: acting for the 15th and 16th Defendants in proceedings valued in excess of £4 billion for the recovery of bitcoin on four different blockchains. The claim involves novel allegations of breaches of fiduciary duty against software developers and counter-allegations of fraudulent claims to ownership.
Topalsson GmbH v Rolls-Royce Motor Cars Ltd  [2023] EWHC 1765 (TCC): acting for a German software development company against the luxury car manufacturer Rolls-Royce in relation to a software project to deliver a real-time configurator for the Rolls-Royce Ghost.
BPY v MXV [2023] EWHC 82 (Comm): Successfully defending a challenge brought under Section 68 of the Arbitration Act 1996 to an arbitral award. This case is significant because of the numerous and notable grounds for the challenge, which included: rules applicable to cross examinations in London-seated arbitrations; alleged bias; and treatment of allegedly unlawfully obtained documents.
A and B  -v- C, D and E [2020] EWCA Civ 409 and [2020] EWHC 258 (Comm): acting for the successful appellants in the Court of Appeal and Commercial Court in an application under s. 44 Arbitration Act 1996 to compel the evidence of a non-party witness in aid of a New York arbitration.
Morley v The Royal Bank of Scotland [2019] EWHC 2865 (Ch) and [2020] EWHC 88 (Ch): acting for a property developer against the Defendant bank including on successful applications for specific disclosure and to summon two former bank employees to give evidence at trial.
Ang v Reliantco Investments Ltd [2019] EWHC 879 (Comm); [2020] EWHC 2529 (Comm); [2020] EWHC 3242 (Comm): acting for the Defendant in: (i) an application challenging the jurisdiction of the English Court to hear a claim relating to the alleged wrongful close-out of Bitcoin futures; and (ii) at trial.
CMOC Sales & Marketing Limited v Persons Unknown & 30 ors [2018] EWHC 2230 (Comm): acting for international commodities business subject to a sophisticated Business Email Compromise fraud. Obtained first-known reported worldwide freezing injunction against 'Persons Unknown'.
Acting for a London-based hedge fund against a US bank in relation to an underperforming portfolio of mortgage-backed securities.
Acting for a number of substantial London and UK-based property developers against major UK and European banks regarding the alleged mis-sale of interest rate derivatives and fraudulent manipulation of Libor.
Representing a number of UK-based clients against UK retail banks regarding multiple frauds committed by third parties on a number of the clients' accounts held at various defendant banks.
Representing a mobile phone network operator in relation to the termination of its contract with its support and maintenance contractor.
Acting for a European software house against an international financial institution for claims of breach of a licence agreement and defending a counterclaim for breach of contract.
Representing a UK logistics business to manage the termination of a transportation services contract where the relationship had broken down.
Obtaining Norwich Pharmacal relief for several investment vehicles beneficially owned by a high net worth individual following a high value Ponzi-style investment fraud.
Acting for a London hedge fund in an application for injunctive relief against a fraudulent investment manager.
Representing a petrochemicals company in an application for injunctive relief against the closure of its UK and overseas bank accounts.