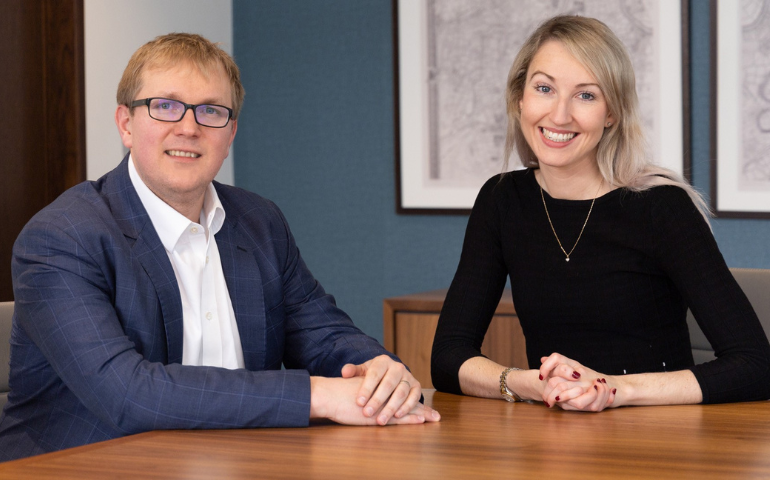 A Q&A with CYK's newest partners
24 April 2023: A Q&A session with CYK's newest partners Mikhail Vishynakov and Rosie Wild.
Give us a quick overview of your backgrounds and career to date.
RW: Well, I grew up in Manchester, flew the nest for university, and then came to London straight after that to start my training contract. I was lucky enough to get some great opportunities during my training, including living abroad in Hong Kong and a secondment at ISDA.
In terms of my career background, I joined CYK nine and a half years ago, having largely had only arbitration experience (both commercial and investment treaty) before then. I was very keen to get some litigation experience, did exactly that, and have been involved in a diverse range of litigation and arbitration related work since then!
MV: By way of my background, I grew up and went to school in Cyprus, and then went on to Bristol Uni to study law. I recall that the training contract application forms at the time did not provide a level playing field to applicants who went to school abroad or did not grow up in England, and I remain amused by my recollections of some of the questions asked in the forms and interviews. You can ask me separately for some examples! I therefore remain grateful to the now sadly non-existent SJ Berwin for their offer. As a junior associate I moved to Linklaters, where I was part of the international arbitration and sanctions teams for over seven years. I joined CYK in August 2021, as Counsel.
Tell us why you chose to join CYK?
RW: As I mentioned above, I wanted to do both litigation and arbitration work, enjoy a more diverse range of clients and matters, and seek out opportunities.  I also wanted a complete change from where I was before.  CYK excited me, and at the time, it had just won a best boutique law firm award for its dynamic and successful work on the LIBOR misselling cases. I also immediately felt a warmth from the partners and associates, and I think that our brilliant culture remains one of our USPs still now.
MV: CYK is a well-known, reputable, and established disputes boutique. I thoroughly enjoyed the interview process. That dialogue provided an excellent window into the culture and ethos of the firm. CYK combines market-leading expertise, having worked on many seminal cases since its inception, with a genuine interest in the well-being and work-life balance of its lawyers. It also emphasises the importance of business development and supports associates' efforts in that regard. In short, if you are looking for a place where you can work on excellent cases and embrace business development, look no further than CYK!
What does it mean to you to be promoted to the partnership at CYK?
RW: Oh, it is such great feeling: I feel very proud and happy. It is huge sign of respect from the partners, and I'm very excited to be part of the leadership team shaping the future of the firm. It is also quite scary, but I know I have a firm of great people around me for support for this next stage.
MV: I am delighted and honoured to be promoted to the partnership at CYK. It is a significant career milestone and is of course a cause for jubilation. I agree with Rosie – it is awesome to be surrounded by great people for support in this next chapter of my career, and also to play a role in managing and growing the business.
How do you see the market for dispute resolution at present? How does this vary by the different types of work you do?
MV: Interestingly, we are seeing a broad range of instructions arising from a broad spectrum of problems. I think this a reflection of the ongoing "permacrisis", and the countercyclical nature of our work. Clients are coming to us with problems which they may not have had or may have been able to resolve amicably had it not been for the myriad of prolonged crises that have affected them or their counterparties.
I do a lot of contractual disputes, including post-M&A claims, which seem to be on the rise. I expect that to continue, not least because deals are often heavily debt-financed and the increasing interest rates may lead to increased scrutiny of the target and the contractual protections that may be available.
Additionally, I am receiving instructions arising out of the unceasing sanctions being imposed on Russia. I have advised on sanctions compliance extensively over the years and can see that the current regime is highly complex yet ambiguous. Since late last year we are seeing sanctions-related judgments on a regular basis, and I expect that to continue for the foreseeable future.
RW: I echo what Mikhail said that it is an interesting and eventful time for the litigation market. It is sometimes difficult to know how events can shape and impact the market, both short term and long term, but as a firm we are seeing an increased number of instructions in a broad range of areas.
What are the most significant opportunities for disputes boutiques in particular?
RW: Well, there are many, so I will try to keep this brief.  We always have been, and still are, largely conflict free, which enables us to take on some great opportunities. We are also small and dynamic, which affords us the opportunity to be flexible in our arrangement with clients. Given our size, and the fact we only have one office, in London, this allows us to collaborate with lots of overseas firms. I really enjoy that part of our practice, and it is great to know that we have colleagues in almost every jurisdiction whom we can call upon as our clients require.
MV: As Rosie said, there are many. We will be working hard not to miss the opportunities!
How do you unwind outside work?
RW: Hmm, having a drink and a catch-up with my friends! But when not doing that, I enjoy trying new restaurants and I love the theatre. I'll also take this opportunity – if anyone is still reading – to recommend Operation Mincemeat, which I saw recently and is fantastic.
MV: I enjoy day trips with the family out of London, catching up with friends, and Netflix. I am also always on the lookout for a good read and welcome any reading recommendations!