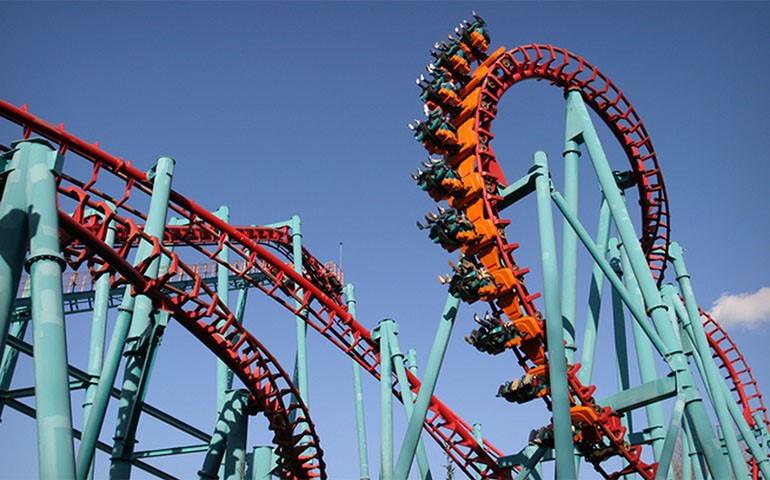 CYK: Hold tight for the year ahead…
After an eventful 2021, Senior Associate Rosie Wild takes a look at what trends we might expect in the world of disputes in the year ahead.
Will we see more businesses fail as the government withdraws protective measures? Is 2022 the year that the litigation market will feel the full force of the pandemic? Will virtual hearings remain as we are told to "live with Covid"?
It is undisputed that the Court system has done an impressive job in adapting quickly to the difficult circumstances caused by the pandemic.  Over the course of this year, we are likely to see a transition towards yet more cases being heard fully in person again, particularly those trials in which fraud is in issue or where there is a large volume of important witness evidence. However, the success of the virtual and hybrid trials and hearings has instilled a lot of confidence in lawyers and clients alike and the use of virtual hearings for (at the very least) smaller, less contentious hearings could be something that remains an option for judges and the parties longer term, especially if it assists to free up judicial time to work through the back-log of cases caused by the pandemic and assists to save parties' costs.
In terms of the types of cases we might see more of over the next year, we can expect various types of fraud to be high on the agenda. From both intuition about human behaviour and research we know that fraud typically increases during periods of economic downturn, as the stresses of trying to stay afloat lead people to take steps they might not otherwise have contemplated.  There is no doubt that fraud will be a key theme in many disputes over the next year, but what types of sectors do we predict we will see this in, and will they all be pandemic-related?
The Covid-19 pandemic has, together with the rapid rise of medical technology and boom in M&A over the past few years, created something of a perfect storm for investment abuses in the medtech sector.  Unprecedented demand for products and services can however lead to less scrutiny from investors and purchasers. The pressure on demand can create the ideal environment for the sale of imitation and counterfeit products, with these issues impacting investors and consumers alike. Some of these issues have been explored by members of CYK: see "After Theranos: where next for medtech investments?" in 'FYI from CYK', our January 2022 newsletter.
But what about outside the medtech sector in more mainstream corporate transactions?  We know that the stresses of the pandemic and its unpredictable waves have put enormous pressure on businesses and the people within.  It is likely that in response to such pressures, mistakes (whether innocent, negligent, fraudulent or plain reckless) have occurred along the way. Discovery of such mistakes is likely to increase over time as government support and imposed restrictions subside, normal economic and operating conditions start to resume, and the nature and performance of a business can be observed and stress-tested more reliably.
Fraud aside, we expect that the rapid and sometimes chaotic style of growth in the technology sector over the course of the past two years may lead to an eventual rise in investment, breach of warranty and shareholder disputes. In contrast to the boom in the technology industry, we can expect a range of disputes – banking and otherwise – to emerge from sectors such as hospitality and retail as support subsides and financial reality kicks in.
The market volatility caused by the pandemic also caused people to focus on their savings, investments and, in some cases, seek professional advice on whether to diversify their assets.  It seems inevitable that accountants and investment advisers will face an increasing number of complaints and claims about advice they have given in connection with investments that have fallen in value and we predict an increase in inquiries based on negligent advisor advice claims. We also anticipate a rise in inheritance related disputes and have already given some thought as to what might happen when people's estate includes a diverse range of assets. (See "Inheritance disputes: from old money to new" in January 2022's 'FYI from CYK').
Changing topics, the strong ESG theme in the economy is unlikely to take a back seat and the rise in shareholder activist campaigns that was seen in 2021 is likely to continue. This can cause issues for companies, as the pressure to align with ESG concepts rises and sometimes the way to achieve this is unclear.  ESG litigation has been on the rise globally, with Courts worldwide having to tackle difficult questions around climate change and environmental concerns.  The English Courts have not yet seen the same volume of litigation on this front, however this is an area to watch this year and this subject grows in importance.
Aside from being the second year of the pandemic and its related chaos, 2021 also saw the rise and rise of NFTs – non-fungible tokens – as the new cryptoasset on the block.  As was to be expected, this is already a market that is riddled by opportunistic fraudsters who can catch the unwary, the inexperienced, or just the plain unlucky. The changing speed and pace of this relatively new and unknown market makes it difficult to know when an investor might turn to lawyers, rather than simply change direction and try to recoup their losses.  However, this is an area ripe for new types of tech-related fraud and we should expect to see more of this emerging over the next year and the associated innovative legal remedies required to tackle it. (To read more, see "New assets on the block" in January 2022's 'FYI from CYK').
Altogether, our view is that 2022 is likely to be a busy and interesting time for the litigation market, but, like the previous two years – not without its uncertainties! Hold tight for an interesting ride…