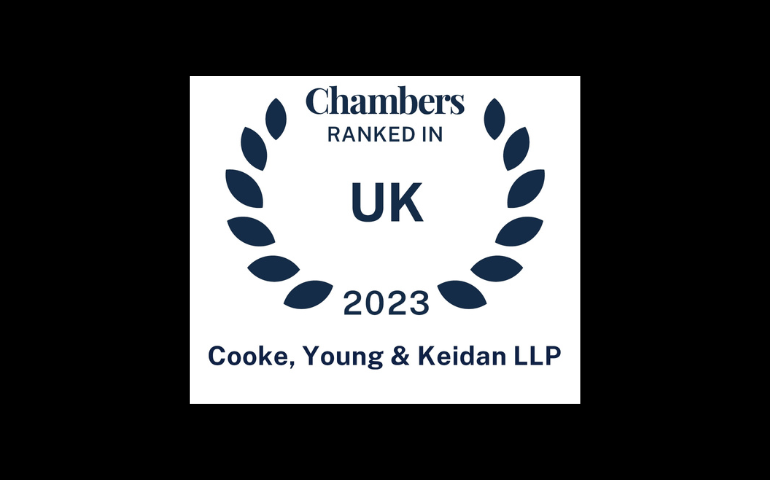 Praise for CYK in Chambers & Partners UK 2023
"In terms of boutique litigation firms, they're my go-to recommendation. They're all extremely good lawyers."
Following hot on the heels of the latest editions of Legal500 (see here) and Who's Who Legal (see here and here), we are very grateful for the positive feedback received in the latest edition of Chambers & Partners UK 2023.
The firm is described as offering "high-end personalised services in a boutique setting" and "a litigation boutique with a solid reputation in the market for its capacity to handle large-scale, complex disputes against banks and major corporates".
"[A] well-known litigation boutique with a focus on the banking and finance world. Experienced handling fraud claims, as well as injunctive action. Represents individual and corporate clients in investigations, litigation and arbitrations on both a domestic and international level. The team handles disputes concerning banks and investment fraud as well as misappropriation of significant assets belonging to companies and partnerships."
"Cooke, Young & Keidan's client base includes a broad spectrum of hedge funds, property developers and high net worth individuals. It has noted fraud expertise, with the ability to assist clients with multi-jurisdictional freezing injunctions."
Further praise includes the following:
"In terms of boutique litigation firms, they're my go-to recommendation. They're all extremely good lawyers."
A source speaking highly of "the technical skill that they're bringing to cases".
"The team is demonstrating that they're able to compete against and be as effective as the very largest firms."
"The lawyers are all experts in their field and work well with one another to ensure the client receives a well-rounded view on matters."
"We value their knowledge, client service and comprehensive strategy."
Sinead O'Callaghan and Lydia Danon also receive individual plaudits.
Sinead "draws praise for her expertise in handling a diverse range of banking litigation", and client feedback is that she is an "outstanding practitioner" and "very good".
Lydia is recognised for her "key expertise in civil fraud matters and associated injunctive relief applications" and as someone who "regularly handles complex cross-border cases, particularly in relation to banking and investment fraud". She is described as " a thoughtful and tough litigator who is also very good with clients and counsel", "very attentive to client needs and works efficiently" and "very focused and has got good experience in this area."