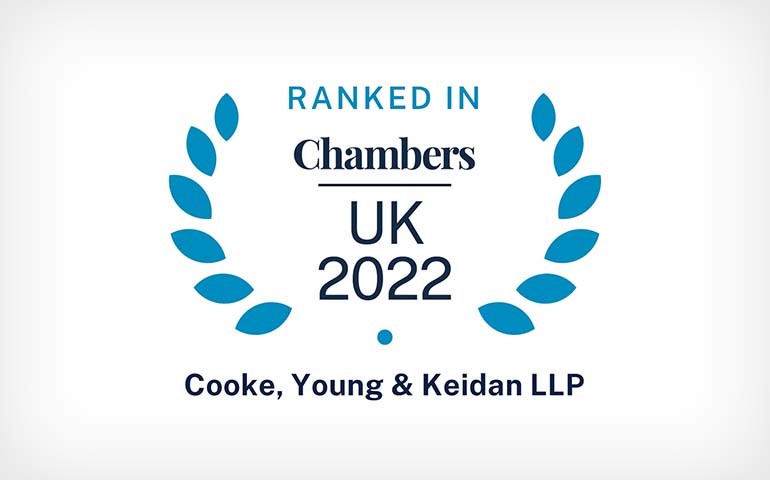 Chambers 2022 Guide recommends CYK as a firm with "superb business acumen" and a "very impressive legal team"
22 October 2021: We are very pleased with and honoured by our client and referrer feedback in the latest edition of Chambers & Partners' Guide to the UK Legal Profession.  The 2022 edition of Chambers has again ranked CYK among the leading firms in the country for Banking Litigation, Litigation, and Civil Fraud.  The guide describes the firm as
"[A] well-known litigation boutique with a focus on the banking and finance world. Experienced handling fraud claims, as well as injunctive action. Represents individual and corporate clients in investigations, litigation and arbitrations on both a domestic and international level. Handles disputes concerning banking and investment fraud as well as misappropriation of significant assets belonging to companies and partnerships.
"Adept at handling matters that span multiple jurisdictions. The team acts for a high-profile commercial client base which features both FTSE 100 and AIM-listed businesses along with hedge funds and high net worth individuals."
Comments from clients include
"They are all excellent to work with and form a very impressive legal team. They all have a very practical approach to applying the law and are all very hard-working."
"The lawyers are excellent – they are pragmatic in difficult situations as well as being bright and extremely easy to work with."
"I always felt that my case and my company was a priority for them, especially during trial – I always felt I was very well represented and cared for."
The expertise of partners Philip Young, Sinead O'Callaghan, Lydia Danon and Dan Burbeary has been recognised in the rankings and praise is given to our impressive associates.  The full rankings are available here.