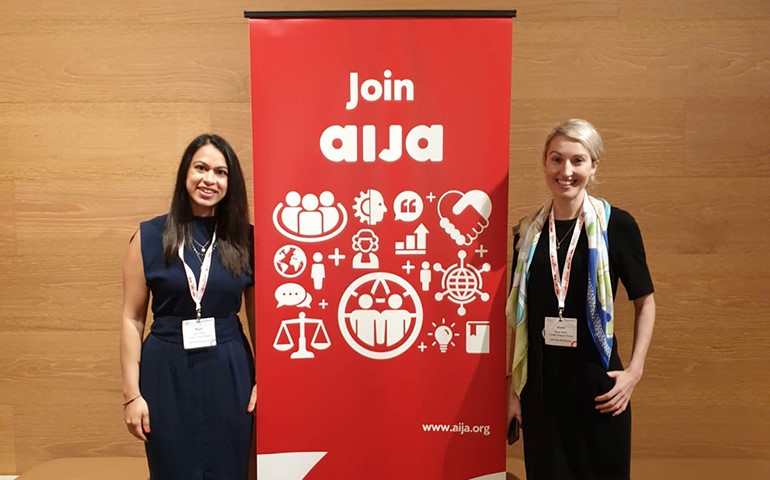 Rosie Wild and Kajal Patel appointed to senior AIJA roles
14 October 2019:  Senior associate Rosie Wild has been appointed Co-Vice President of the Litigation Commission of AIJA, the International Association of Young Lawyers.  Fellow senior associate Kajal Patel has become an Officer on the Executive Committee of AIJA.  Rosie will be part of the team responsible for coordinating the litigation events organised by AIJA over the next three years, including sessions at the organisation's major international conferences.
The Litigation Commission is one of the largest of AIJA's 20 scientific commissions, which are in charge of organising events all around the globe and keeping members up to the date in their respective areas of practice.
Kajal sits on the Executive Committee which is made up of 48 elected members and assists the management body of AIJA in its decision making. Members of the Executive Committee take an active role in promoting the objectives of AIJA, including the development of the legal profession, both internationally and domestically.  Kajal is also co-editor of the newsletter of the Litigation Commission.
AIJA is the only global association devoted to lawyers and in-house counsel aged 45 and under. Founded in 1962, AIJA provides outstanding international opportunities for young lawyers to network, learn and develop. It currently has 4,000 members and supporters in 90 different countries, including over 60 collective members and Bar Associations.
Managing partner Robert Coffey comments, "We are very proud of Rosie and Kajal's appointments to these leadership roles, and delighted as a firm to be supporting the development of young lawyers across the global profession."