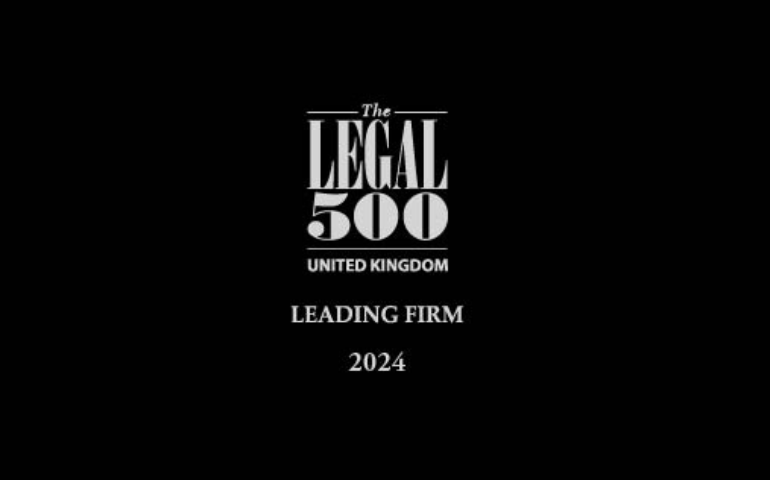 CYK Recognised in Legal 500 2024
Leading specialist disputes law firm Cooke, Young & Keidan (CYK) has been recognised as one of the UK's leading firms for Civil Fraud, Banking Litigation and Commodities Disputes in the Legal 500 – the world's leading legal directory.
In Legal 500's newly published rankings for 2024, CYK are placed in Tier 3 in the categories listed above, with the firm's wider dispute resolution services also ranking highly in the Financial Services (Contentious), Premium Commercial Litigation and International Arbitration categories.
Alongside this, individual lawyers from CYK have been commended by the directory for their expertise and client delivery. Partners Sinead O'Callaghan, Lydia Danon and Jon Felce are all listed as "Leading Individuals" in the Legal 500 for their relevant practice areas.
As "Next Generation Partners", commendations have also been granted to Stephen Elam, alongside Natalie Todd and Jon Felce who both joined the firm in 2022 and are described as 'excellent litigators with a close eye to detail, a strong strategic sense and very strong analytical skills'.
Partners Sam Roberts, Mikhail Vishnyakov and Rosie Wild, senior associate Liz Meade, and associate Tulsi Bhatia also receive plaudits.
Sinead O'Callaghan, Managing Partner at Cooke, Young & Keidan, says:
"We're overjoyed that the hard work of the firm and its lawyers has been recognised by the Legal 500. As a boutique firm, this year's rankings are a testament to the value of top-class technical expertise which our clients expect of law firms, and it's fantastic that the directory commends the strength of our specialist practice areas."
Comments from clients and other legal professionals quoted in the Legal 500 included:
"The CYK team is a dynamic force able to deliver results for clients."
"During my long professional career, they have been one of the best law firms I have deal(t) with, worldwide."
"CYK's ability to manage projects efficiently, diligently and cost effectively makes this firm truly outstanding, and a primary choice when choosing a co-counsel for English law-governed disputes."
"The main strength of the team is client-tailored approach with the thorough understanding of client's business objectives in the case."
"Cooke Young & Keidan is a very entrepreneurial law firm with young and energetic partners."
"They are flexible when it comes to billing as it is a nimble firm.""A very practical and knowledgeable team. CYK has a reputation, which I have seen from working with them in practice, of delivering clear, practical and tactical advice to those working with cutting edge technology."
"The team we work with has a demonstrated desire and ability to learn new technologies and take positions in a difficult and uncertain field. They are excellent advisors."